I'm sick of summer. More specifically, summer in New York. Yes, beach days are great, but the city in the sweltering heat is quite unmanageable. You leave your home looking what you think is wonderful and by the time you are at work, makeup is smudged and sweat-through, hair is frizzy, and you've sweat through your white dress. If fall started tomorrow, I'd be quite alright. I've amassed quite a large inventory of fall clothing, all of which I am unable to wear, and it just stares at me, dejected, in my closet. The poor sweaters, coats, and boots!
This fall, there are a couple of things I'm obsessed with style-wise (and beauty-wise, of course).
I've always been a fan of all the greens - lime, chartreuse, kelly, and most of all, hunter. For fall, shades of green are everywhere, and I'm a fan. My main goal is to get my hands on a deep green leather bag, preferably this one by YSL. You can wear the color with everything you normally would pair black with, which makes an outfit new and exciting. Another way to wear the color is in clothing, and Aritzia's house brand T.Babaton makes the perfect button-down (only available at Aritzia stores), a steal at $110 compared to the classic Equipment blouses.
As I've gone gradually blonder over the past

two years, I've tried to go "darker" in my accessory and makeup choices, to prevent myself from looking too bubblegum. Blonde hair needs to be toughened up. I recently picked up these earrings from Topshop, which are almost like a faux gauge, but simple spike studs also do the trick to go bold.
For makeup, the easier way to go from Barbiesque to something more Daria (the 90's tv show, obviously) is a dark, plum-tinged matte lip. With clean skin, a touch of highlighter, and just mascara on the eyes, this look is modern and edgy. Don't be afraid to rock it if you happen to be brunette or redhead, but be sure to prevent it from going too gothic by pairing it with hyper -feminine ruffles or lace.
I'm just waiting for the first leaf to fall before I pull this soon-to-be-staple out of my makeup archives.
Stubbs & Wootton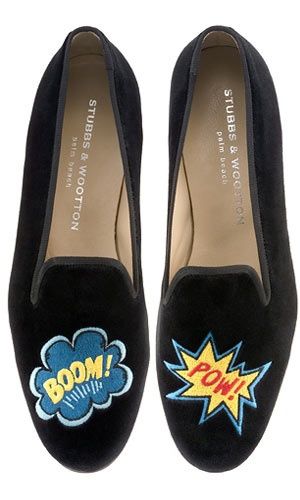 Super-heroine shoes
Ah, smoking slippers – the new ballet flat. This shoe shape is everywhere, from Steve Madden to Christian Louboutin. But my pick for the slipper of the season is the quintessentially preppy classic, Stubbs & Wootton. These embroidered loafers come in every style of embroidery imaginable, from yacht-clubby crests, to a more

punky version featuring one shoe with a devil wing and the other with an angel wing.
While they are certainly not cheap, starting at $330 per pair, these shoes are timeless. Even my grandmother rocks them! J.Crew currently has an exclusive collection, and Stubbs & Wootton also several boutiques in preppy mainstays: Madison Avenue, Palm Beach, and East Hampton, where you can get a glimpse of the entire collection and choose a loafer that truly fits your personality.
If you haven't noticed, tiny pendants of crosses, owls, hamsa hands, stars, and everything in-between, are all the rage right now. Featured on the necks of every girl from Brooklyn to Birmingham, they are a fun way to give a glimpse of your personality and tastes. As an April baby, I am partial to diamonds, and when I discovered Mizuki pendants (particularly the moon symbol necklace; yes, sometimes I want to channel Practical Magic), at one of my favorite boutiques, Red Bird, in Berkeley, CA (a must-see for anyone in the Bay Area: they have a perfectly-curated collection of clothing, jewelry, and accessories, that is unmatched anywhere), I was in love. While the moon pendant I am lusting over is a little (read: a lot) out of my price range right now, a girl can dream, right?
Black diamonds mixed with gold are less bling-bling, but just as luxe, as the typical platinum and crystal combo. A peek at Mizuki's website reveals the stunning assortment of pendants, charms, and chains they offer, which are also available at Neiman Marcus stores nationwide. This is not just a fall pick, but a forever pick, the ideal (albeit pricey) gift for a friend, parent, or sibling.