It's that time of year again – the air is brisker, the coats are essential, and unfortunately, your skin is suffering. Well, mine is at least. As soon as that snap of cold hits, I suddenly transform into something quite similar to a snake – the skin on my cheeks and forehead is so dry it begins to flake, my lips crack, my hands ache from dryness, and my body is as soft as sandpaper. Lovely, right? Thankfully, in my years of beauty product obsession, I have found some incredible healers that prevent the dramatic molting from occurring.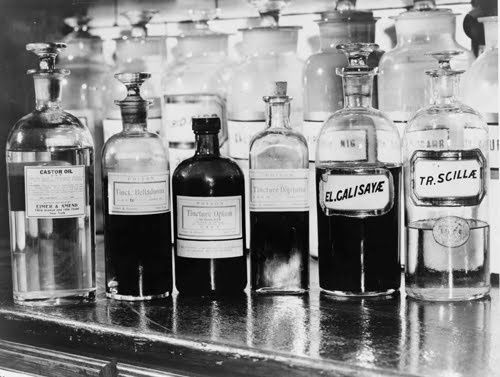 Contrary to the look of this slightly spooky black and white photo, oils are not to be feared.
I have very dry, sensitive skin, but I get an oily t-zone. In a humid climate, such as
India
or NYC, my skin does fairly well in the spring and summer – it appears moisturized, and even has a slight glow. In a dry climate, like California, or basically anywhere during the fall and winter, I look like I've aged more than a few years. Thankfully, I've found a magic combination that seems to keep my skin supple and healthy-looking rather than dehydrated and parched. I only cleanse at nighttime in the shower – I first remove my makeup (pre-shower) with
Amore Pacific Cleansing Oil
, which is a splurge and a half but absolutely amazing, and afterwards, cleanse with
Mario Badescu's Acne Facial Cleanser
. I finish my routine by mixing several drops of
tarte's pure maracuja oil
with Sanre Organic's
Siesta Sunset
face cream, which contains avocado and seabuckthorn oils. I religiously wear eye cream (currently
tarte's C-brighter maracuja eye treatment)
for its "preventative aging" properties. I wake up with the soft, redness-free and dewy skin that I have always dreamed of. In the morning, instead of cleansing, which I find dries me out immensely, I simply tone with
Thayer's Rose Petal Toner
, to get rid of oilies on my t-zone, and smooth on a light layer of whatever day cream I'm using; at the moment it is
Mario Badescu's A.H.A. and Ceramide Moisturizer
. I follow with my makeup application. If I happen to get a breakout, I spot treat, rather than using an all-over acne serum, which I find dries me out. I use the classic
Mario Badescu Drying Lotion
. The lesson here? To "winterize" your favorite cream, add facial oil, like the aforementioned tarte product. Don't believe the common misconception that oil will break you out. In fact, it will help acne. Facial cleansing oils (R.I.P. Shu in America) are some of my favorite products to try on the planet.
Are my lips chapped?!
Lip balm is essential for everyone – men, women, and children. I probably have enough to supply them all. I think my lips are the first thing to feel the cold, as they go from kissable (or so I'd like to think) to pathetically dry in a matter of minutes in the brisk air. I can't deny my love for classic
Spearmint Chapstick
, but if you want something a little more special, and much more pricey,
By Terry
and
Sara Happ
both make incredible products that smell divine. If it's color I'm after and I will be walking for miles on the chilly streets and braving the windy gusts in Manhattan, I go for
tarte's LipSurgences
, since I'm partial to matte lips if I wear a bright and basically every other matte dries me out to the max. Lively, a deep bright pink shade, flatters seriously everyone. The peppermint scent and tingle of these is quite addicting as well.
I am almost as picky with body creams as I am with my foundation. There are only a handful of products that I've found that actually bestow immense moisture, don't cause sensitive skin breakouts and flare-ups, and do not offend my nasal passage to the highest degree
. Kiehls Crème de Corps Body Butter
is my ultimate, but the high price tag can be a bit off-putting, so in a penny-pinching move,
Aveeno's Skin Relief Moisture Repair Cream
does the trick.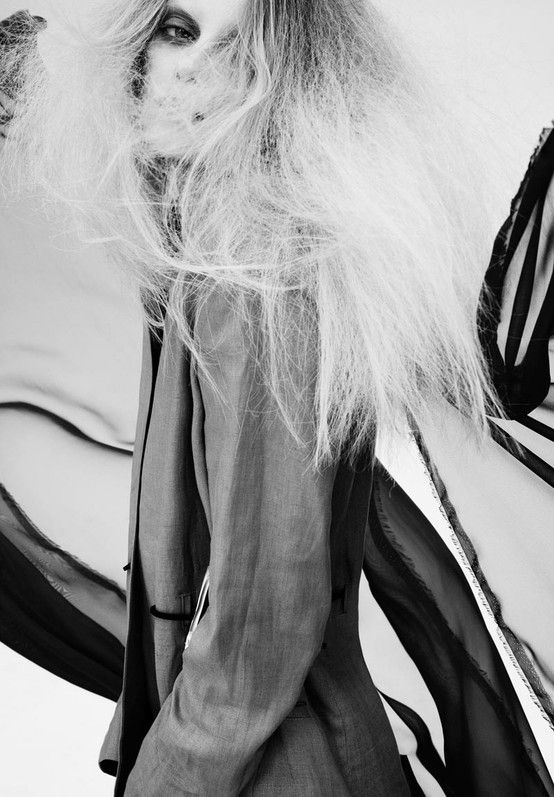 While this hair looks awesome in editorials, the same cannot be said for it in real life.
Friends, I've recently discovered a miracle for my seriously fried hair. What is it, you ask?
Shea Moisture Restorative Conditioner
. I'm fairly certain it is not intended for my lame white girl hair, but boy does it penetrate and leave my strands soft and silky. Preceded by
Oribe Moisture Shampoo
and followed by one pump of
Kerastase Elixir Ultime
, I can actually see light bounce off my hair, which is a feat that I have been unable to complete since going blonde.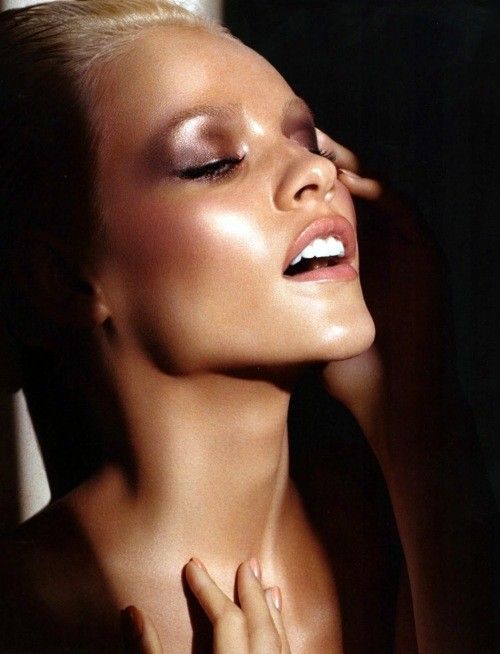 Obviously, I glow this much, if not more
Last but not least, a product that helps you fake it (til you make it):
RMS Beauty's Living Luminizer
. Formulated without any harmful chemicals and choc full of coconut oil, this super organic highlighter is a god-send for skin that has been pelted by the elements. Worn on the tops of cheekbones, beneath the brow bone, on the cupid's bow of the lips and the tip of the nose, people will never guess you've basically been suffering from pneumonia since October 1

st

hit. It's not obviously shimmery, either, so guys, feel free to apply and get compliments.
It goes without saying that a healthy diet will help your skin as well. Right now I'm loving Green Monsters - Spinach/banana/cocoa/flax/protein smoothies that I make daily in my beloved Vitamix and look quite putrid but taste delicious and are full of nutrients to heal you from the inside out.
P.S.: I would have done a proper product photoshoot for this, but I have been beyond busy between moving, work, and school. I'm quite pleased with the shelving I've installed in my bathroom. Here are some instagram photos; official shots to follow soon.